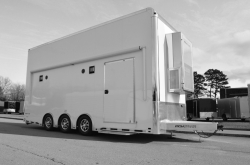 Aluminum Tag Stacker Trailers
RPM Trailer Sales offer a full line of aluminum stacker trailers to fit all of your hauling needs, from a basic enclosed tag stacker trailer to the most complex, custom built stacker trailers in the industry. If you have been disappointed by other trailers in the past then you need to take some time to check out the supreme customer service you get at RPM Trailer Sales.
We know that there is a difference between trailers. Our premium line of all aluminum, all tube construction stacker trailers will certainly not disappoint. We specialize in building custom stacker trailers that are designed and manufactured to fit each customer's specific needs. If you are in the market for a custom double stacker race car trailer, motorsports tag trailer, or a special custom stacker trailer designed for you, then you are at the right place.
From start to finish we give each project the attention it deserves. You don't have to settle for a mass produced trailer that is simply designed to be easy for a manufacturer to build, you deserve the best. The pride we show in our customer service is guaranteed that each customer receives the perfect trailer. The attention we give to every detail are the small things that sets RPM Trailer Sales Design team apart from all the rest. From the ordering process to the finished product RPM offers you the same customer service for years to come. With years of experience and the effort our design team puts into each trailer, we know you won't be disappointed in your experience and the end results.
Take some time to look over what we have to offer. If you have any questions or need help, then don't hesitate to let us know, our design team is ready and waiting. Your next dream trailer is a phone call away. Contact us today at 706-654-2882 ask for Brad, owner of RPM. He will be happy to personally take care of you himself!